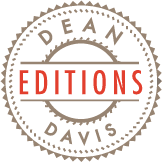 Testimonial
My gallery has used Dean Davis for years as our source of fine art reproductions. Dean's attention to detail is meticulous. His sense of color and design are outstanding.
—Sue Bradley, owner, Tinman Gallery LLC
About Us
Dean Davis started a commercial photography business, Dean Davis Photography, in 1997 and fine art reproduction has been a passion since. Dean's deep love of art is reflected in his ever growing collection of fine art. Dean Davis Editions was created in 2009.
To go along with a photography degree and 20 years of creating images and assisting the regions top photographers, Mark Meyer spent 15 years in the photo lab business printing color critical work and can tell you if an image has 2 points too much cyan.
Bob Rice is the "old dog" of the group and wears shorts to the studio year round. For the record, he wore pants to his interview in 2005. He is also one of only a handful of people left who still operate a "wet" darkroom. Bob has printed more black & white images than most people have ever seen.
Combined we have more than 60 years experience in image capture and color and black & white printing and together we have photographed and printed hundreds of works of art. We continue to educate ourselves in the craft of digital imaging and printmaking.
We use Epson printers with ImagePrint RIPs. Currently we are using an Epson Stylus Pro 9900 (up to 44") and an Epson Stylus Pro 3800 (up to 17"). We use top of the line Eizo Monitors calibrated with Gretag Macbeth's Eye One Pro. Proofs are viewed in our GTI Viewing booth. Artwork is captured with our Canon EOS 1Ds Mark III.
We are constantly upgrading our equipment in an effort to produce the best results possible.