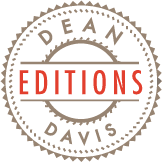 Testimonial
As a full time artist, when it comes to reproducing my artwork I rely on the professionalism of Dean Davis and his crew. I realize that I do not have "easy to reproduce" artwork. It is both heavily textured and contains metallic and iridescent paint. Dean takes the extra time to work with each piece on an individual basis, photographing the work both polarized and not to achieve maximum results with the highest resolution camera available. In the studio his staff is highly skilled with digital work, and the printers, paper and canvas are of top quality. The end result is rich, velvety giclee prints, which I have always been more than satisfied to offer to my customers.—Melissa Cole
Place an Order
Place an Order
Payment Terms
All orders, whether you are a new or established client, must be processed with a deposit equal to 1/2 of the order total. If a deposit is not sent, your job will be held until a deposit has been received. Deposits and final payments may be paid with credit card, personal check or by money order. Upon completion of your job we will notify you and provide you with your balance due. Final payment must be received by us before we will ship your final print(s) too you. If you have any problems with your final print(s) or invoiced charges you must contact us within ten working days.
*All RAW and DNG files received will be billed an additional processing fee of $50 per image and added to your order total. We will provide you with a Hi-Res TIFF and JPEG file, burned to cd, of each image that we process. Additionally your final processed files will be archived by us for easy re-order retrieval.
**We add $25 per proof + shipping costs to your order. We will provide you with one (1) 8 1/2" x 11" proof per image. Once proofs have been received you must sign off and return all proofs to Dean Davis Editions before final printing of your order. For your convenience we will ship your proofs in a reusable FedEx envelope with a return label. All returned proofs are archived in dark storage.
***Once your order has been received with your deposit, we will contact you to verify its receipt. After we have reviewed your image file(s) we will contact you to inform you as to the anticipated start and completion date for your job. Once your order has been completed we will notify you. We also confirm any balances due to us at this time.